Spouses who have lost their partners are widows and widowers. Children who have lost their parents are orphans. But there is no term to describe a parent who has lost a child.
Locally, some of those parents gather at a church each month to share memories of their children and sorrow that only they can understand.
Others soldier on alone or lean on family, friends or faith, sometimes founding charities, scholarships or anti-violence groups to keep alive the spirit of their loved one.
Whatever the circumstance of their children's passing, whatever the ways in which they chose to grieve, the parents share a common, painful void. The death of a child steals away the past, present and future.
"You always have plans for your kids. We certainly fill our lives with hope. When our child is gone, that hope goes away," said Bob Boyle, whose daughter Kelly was killed in a car accident at age 22 in 1994.
Nancy Kirkwood mourns "not being able to see, hear or speak" with daughter Tess Senay Raynovich, 20, who died in a car accident in 2012 not far from her home.
"When you lose your child, when a young person dies, there is so much that is lost. Much pain is caused by thinking of everything she is not getting to do, never having a baby, just so much … .," Kirkwood said. "This is an incredible sorrow and I have to learn how to live with that."
An aspiring artist, Raynovich was getting ready to move to a ranch in Montana where she planned teach art to children when she died.
"Everything is marked by that. Her friends graduated from college, her cousins got married. All of these things are happening without Tess and that seems impossible," Kirkwood said.
Disruption of the expected natural order and helplessness felt by not being able to protect or save their offspring bring a heartache that can be fathomed only by others who have experienced it, the parents say.
"It's a lifelong process. You are going to be dealing with it for the rest of your life," said Valerie Dixon, who lost her only son, Robert, 22, in a street shooting in June 2001.
Lori Malazich is a bereavement coordinator at UPMC Children's Hospital who follows up with families after the death of the child.
"Parents experience this profound sadness and it happens out of order. Parents have this belief that they are protectors, that we can somehow protect our kids," Malazich said.
Guilt over not protecting a child exists even when an illness takes a child's life and "even when a medical professional says 'There is nothing you could have done or not done,'" Malazich said.
The first year after a child's death is torture as parents mark the first birthday, first Christmas, first Mother's Day or Father's Day without their child.
The second year is worse. "That's when it really sinks in they are gone," Boyle said.
And it's not always the major events that pack the hardest punch.
For Dixon it was grocery shopping after her son's death and spotting Quaker oatmeal with apples and cinnamon on the shelf. "I broke down right there in the store. I always bought that for him," she said.
Anger and questioning of religious faith is common following the loss of a child. So is asking the question, "Why us?" Malazich said.
"Who is going to give me the answers on what happened and how to get through it," questioned David Fabus, whose son Joey, eight, died from a rare brain tumor in January 2015. It was the second time the Fabus family lost a child. Their 15-month-old daughter died in 1997 from a rare kidney disease.
"It's devastating to think that two of your six children are being taken away from you," Fabus said. "I have a lot of questions for God, if he does exist."
For those who seek support in group meetings, The Compassionate Friends holds meetings one Sunday a month for families who want to share their experiences or just sit and listen.
Telling the story of how their children died and talking about the child's life is part of the healing process. At the meetings, parents find others who never tire of hearing the stories, unlike others in their lives who expect them to move past their grief.
Blame and guilt often plague parents who have lost children to accidents, overdoses and suicides.
Some experts refer to the "if onlys" – For Kirkwood it was "why did I let her drive a small car?"
Another mother, whose son committed suicide, told the group she can't find closure because "he should still be here because he took his own life. He had a chance not to do that," she said.
Parents who have lost children to violence have an added dimension to their grief – the desire to see justice in the court system and the pain of hearing details during the trial. There can also be a letdown after the trial. Even if there is a victory, it rings hollow because their child is still gone.
Losing an adult child can mean losing a relationship with a son or daughter-in-law as they heal and move on with their lives, particularly if they find a new spouse or partner.
"People don't think about how it affects the extensions of the group," said Wilma Stoeckle who lost her son Richard at age 43 to esophageal cancer three years ago.
"What happened is that we were a family unit. In the beginning everybody grieved. But now his widow is moving on. She can have a new husband and the grandchild can have a new stepfather. But we don't get a new son. The parents don't get that," she said. "You want them to move on, but you still want them to remember."
Some parents find comfort in creating fundraisers or memorials to their children. Kirkwood started the Tess Senay Raynovich Art and Earth Fund, which sponsors Eco-Art summer camps for children and provides scholarship money for college students.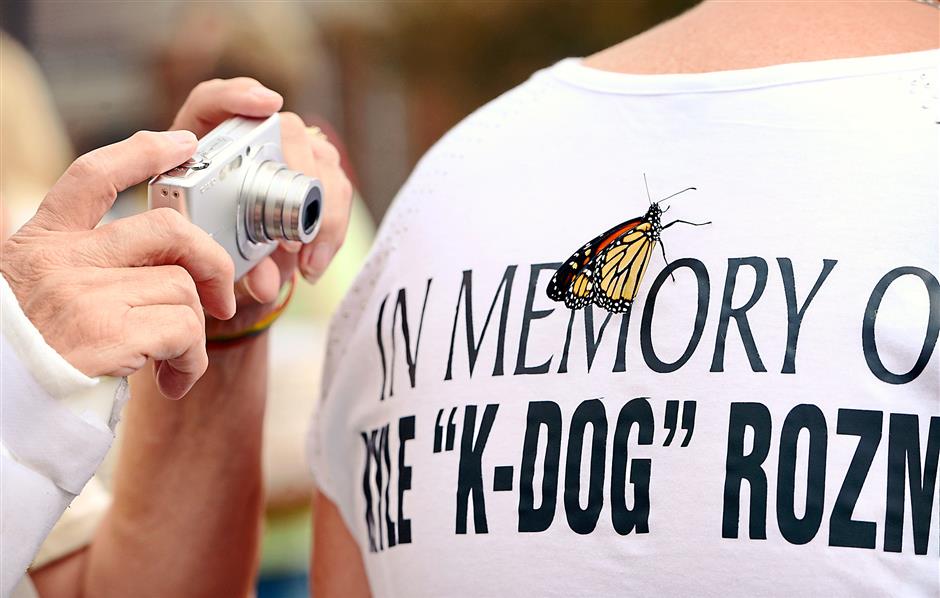 Grief over the loss of a child has no race, cultural or class boundaries. It mows down parents at even the highest levels, including Vice President Joe Biden, who lost his son Beau to brain cancer in May. That loss followed the 1972 losses of his first wife and 13-month-old daughter.
Biden spoke about grief just weeks after his son's death to members of the Emanuel African Methodist Episcopal Church in Charleston, the site of a church shooting that killed nine people.
"I wish I could say something that would ease the pain of the families and of the church but I know from experience – and I was reminded of it 29 days ago – that no words can mend a broken heart. No music can fill the gaping void."
Bob Boyle, who is more than two decades into working through the death of his only daughter, offers hope to newcomers at The Compassionate Friends.
"What I learned was that you could survive this. That it was possible to survive the loss of a child. I want you to know that hope is possible." – Pittsburgh Post-Gazette/Tribune News Service